7.3 oz Dark ROCA V-Day Stand-up Box - Case of 6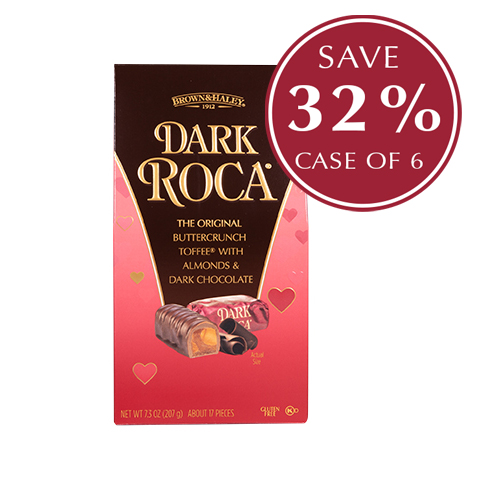 7.3 oz Dark ROCA V-Day Stand-up Box - Case of 6
This beautifully designed stand-up box, with gold embossing and hearts, is nicely sized to make an excellent gift for a special one, friends or parties.
About the Product
Case of 6/7.3 ounce Stand-up Boxes.
Buttercrunch toffee center with almonds, covered in a rich blend of cocoa butter and dark chocolate.
Each piece is individually foil wrapped and sealed in an airtight pouch for freshness.

About 17 Pieces (7.3 ounces) per Stand-up Box.

Stand-up Box Dimensions in inches: H: 8.375 x W: 4.5 x D: 2.375

Stand-up Box Weight in pounds: 0.575
DARK ROCA® Buttercrunch adds rich cocoa butter and Dark Chocolate from carefully selected cocoa beans to our ROCA® center. Each bite blends buttery toffee crunch with rich, luxurious chocolate.
sold out